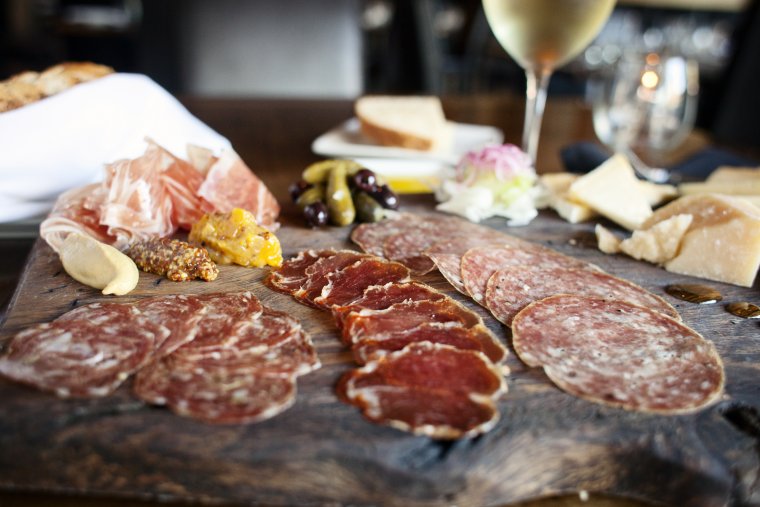 1/2 Off Charcuterie Every Tuesday at Opal
We pride ourselves on the best charcuterie and cheese platter in town! Our wooden boards feature platter feature up to 16 of the best meats and artisan cheeses available, served with a beautiful array of house made condiments. Prices typically run from $11 for 3 to $51 for all 16.
Now, every Tuesday, you can try our famed selection for ½ off any selection of 3, 5, 7, 9, 12, 14 or 16. Add a glass of wine + make a meal of it! See you next Tuesday at Opal.
October 8, 2014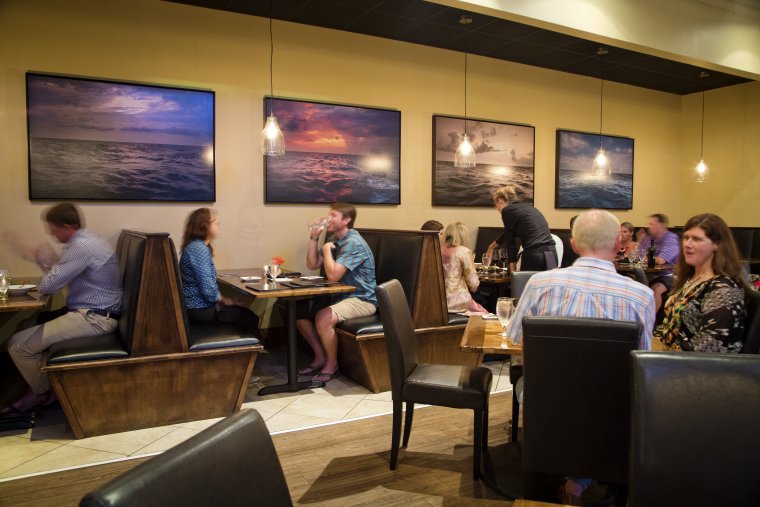 $30 Bottles Every Monday + Wednesday at Opal
Join us each + every Monday + Wednesday evenings for a sizable menu of great $30 wines, curated by our own Chef Ryan Camp. The wines will be available during dinner service, 5 to 11 p.m.
Here are a few bottles on the current list:
Sparkling: Toso Brut, Mendoza Argentina
White: Edna Valley Sauvignon Blanc, Central Coast 2013 | Columbia Chardonnay, Columbia Valley 2012
Red: Bridlewood Pinot Noir, Healdsburg 2012 | Punto Final Malbec, Mendoza 2012
See you then!
October 8, 2014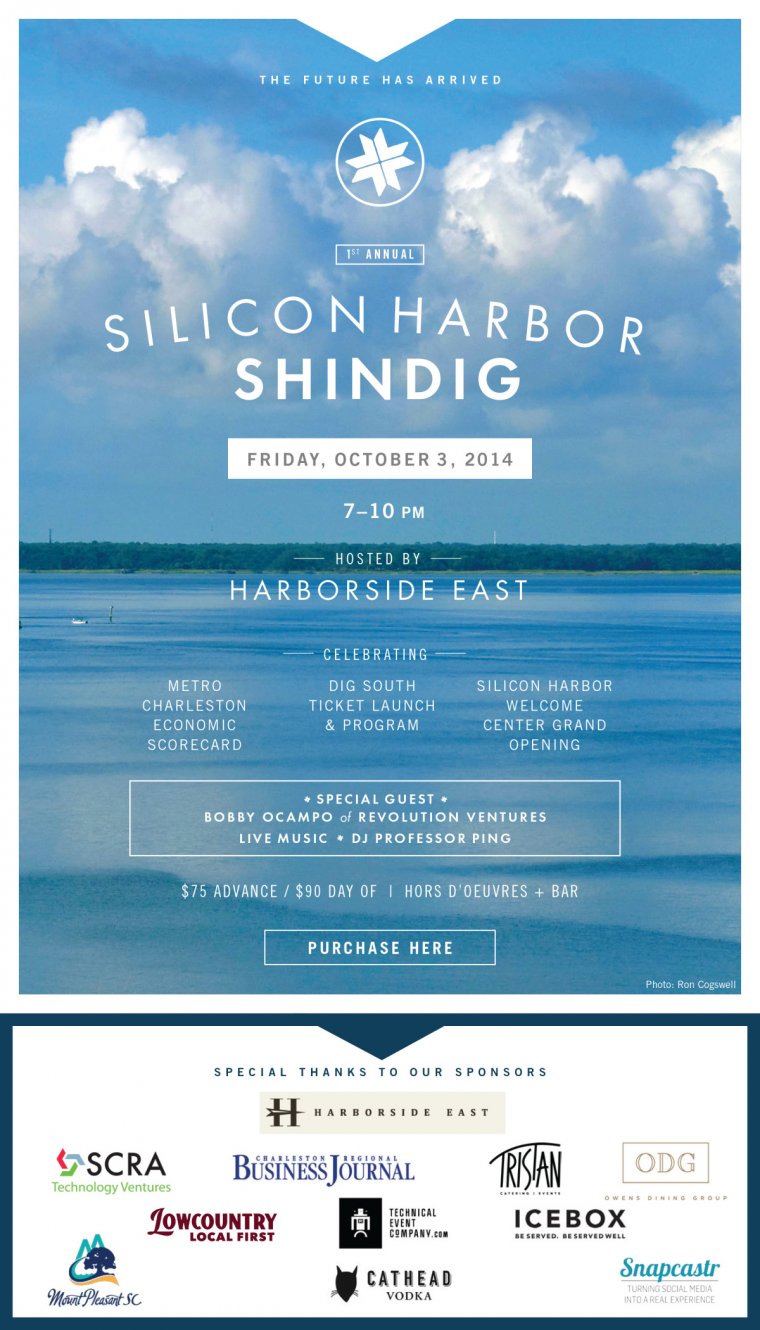 ODG at DIG South
The folks behind DIG South (Charleston's first interactive conference) is hosting a ticket launch party– "Silicon Harbor Shindig" –on Friday, October 3 at Harborside East. Hank West & the Smokin' Hots will be performing + we will be there serving up short ribs! Should be a fun time! Click here for more info.
October 1, 2014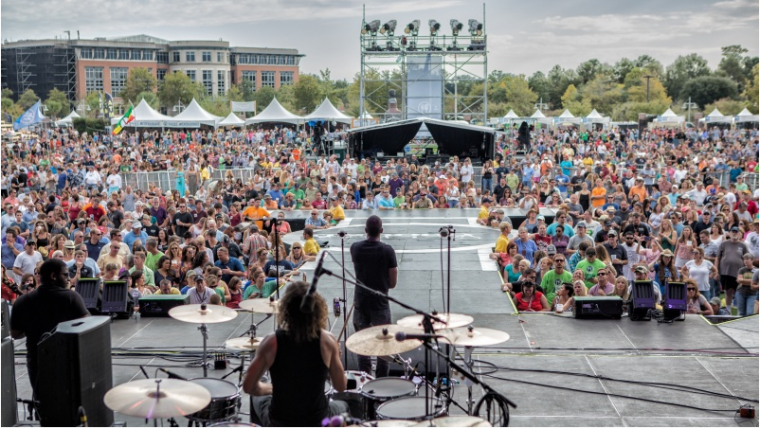 ODG at Southern Ground Music Festival
We are thrilled to announce that on October 11 + 12, 2014, we are joining the line-up of VIP chefs for Zac Brown's Southern Ground Music Festival. We are teaming up with Southern Ground Executive Chef Rusty Hamlin, Washington, DC Chef RJ Cooper, and Charleston chefs Ken Vedrinksi and Kelly Kleisner for a weekend of great food and music.
We will be cooking for the sold-out Front Porch Stage VIP Boxes each night, serving up some of our favorite Langdon's + Opal dishes. We will be serving some of our Porcini Agnolotti with smoked duck ham + local greens and Local Grouper over orzo perlato with fennel sausage and roasted corn tapenade. How's that for a uniquely delicious way to experience a concert?!
Can't wait!
October 1, 2014
Langdon's Reviewed by AAA
Langdon's continues to hold our post as the only AAA Four Diamond award winning restaurant in Mt. Pleasant, a position we have held since opening over 10 years ago! Click here to read AAA's review.
April 16, 2014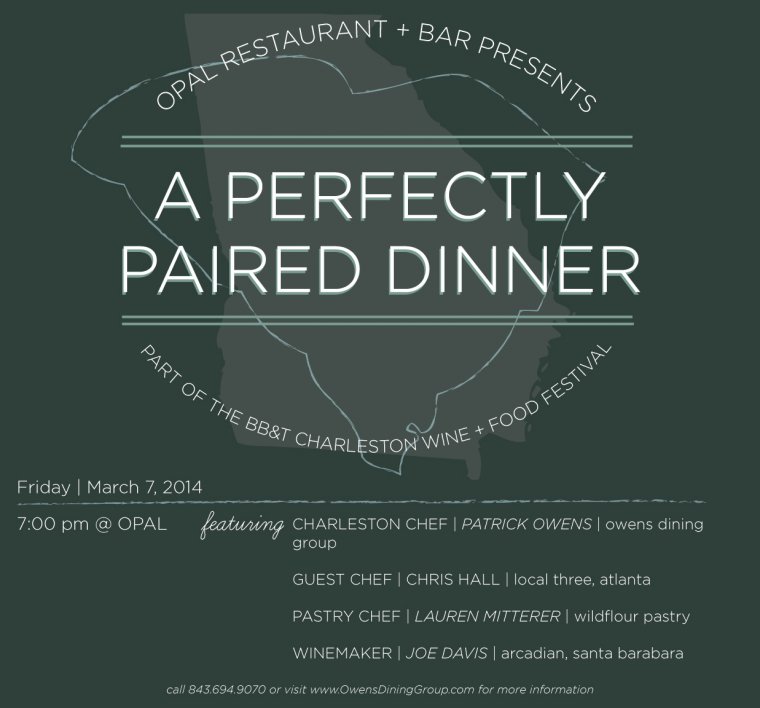 Perfectly Paired Dinner at Opal Friday, March 7
We are thrilled to participate in the BB&T Charleston Wine & Food Festival this year as part of their "Perfectly Paired Dinner" series. We will be welcoming our friend Chris Hall from Local Three in Atlanta, as well as acclaimed local pastry chef Lauren Mitterer of WildFlour, and Joe Davis of the celebrated Arcadian Winery in Santa Barbara, CA.
We can't wait to have this incredibly talented team in our kitchen + hope you can join us for what promises to be an unforgettable dinner! Only a few spots left, so please call to make a reservation soon. 843-654-9070
Reception
"Caviar Service"
Stone Crab Bruschetta with Fennel, Blood Orange and Tomato
First Course
Arcadian 07 Sleepy Hollow Chardonnay
Smoked Scallop with Steelhead, Truffle, Salmon Skin, Beet
Second Course
Arcadian 08 Santa Lucia Highlands Pinot Noir
Pork Cheek Agnolotti with Local Greens, Pistachios and Carrots
Third Course
Arcadian 08 Pisoni Pinot
"Duck, Duck….Mousse": Duck Sausage, Duck Confit, Farro, Collards, Smoked Foie Gras Mousse
Fourth Course
Arcadian 01 Gary's Syrah
Seared Lamb Rib-Eye with Sunchoke, Asparagus, Sweet Peas and Star Anise-Sorghum Pan Sauce
Fifth Course
Salted Caramel Fudge Cake + Ginger Cherry Tart
March 2, 2014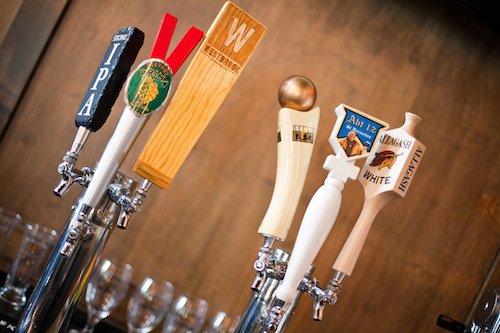 Stone Brewing Co. Craft Beer Dinner at Opal 2/19
Join us as we welcome our good friends from Stone Brewing Co. for our first-ever Craft Beer Dinner at Opal!
Wednesday, February 19 | 6:30 pm reception; 7 pm dinner
$59/person, includes all food + drink
Reservations: 654-9070
…………………………………………………………………………………………………..
Reception:
Charcuterie and Artisan Cheese with Accoutrements
Pairing: Stone Levitation
First Course:
Big-Eye Tuna Crudo with Spicy Blood Orange Jam and Cilantro
Pairing: Stone IPA
Second Course:
Braised Pork Agnolotti with White Acre Peas and Greens
Pairing: Stone Smoked Porter
Third Course:
Five Spice Salmon with Kimchee Slaw
Pairing: Stone Vertical Epic
Fourth Course:
Chocolate-Ancho Panna Cotta with Toasted Coconut Crema
Pairing: Matt's Burning Rosids
February 17, 2014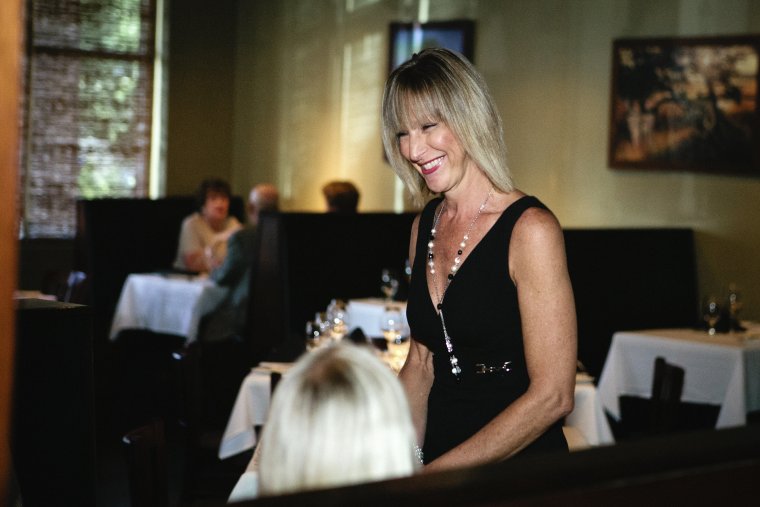 NYE 2013 at ODG
Langdon's New Year's Eve | $89/person +$49 for wine pairings | For reservations, call 843-388-9200.
FIRST COURSE
Duck and Foie Gras Pate with Pickled Fennel and Cranberry Mostarda
SECOND COURSE
Warm Beet Salad with Walnuts, Granny Smith Apples, Roquefort, Local Kale and Applewood Smoked Bacon Vinaigrette
Or
Lobster Chowder with Sweet Potatoes, Yellow Corn, Parsnips and Shaved Speck
THIRD COURSE
Wild Mushroom Gnocchi with Local Spinach, Pecorino Romano and Fresh Thyme
Or
Hawaiian Bigeye Tuna Tartare with Cauliflower Kimchi and Meyer Lemon Aioli
FOURTH COURSE
Dry Aged New York Strip with Roasted Rainbow Carrots, Fontina-Basil Whipped Potatoes and Bourbon-Green Peppercorn Demi
Or
Local Golden Tilefish with Grilled Vidalia Onions, Sweet Corn, Broccoli Raab Greens and Champagne-Tarragon Emulsion
Or
House-made Cavatelli with Lamb Ragu, Broccolini and Parmigiano Reggiano
DESSERT
Pomegranate-Spearmint and White Chocolate Panna Cotta with Candied Local Pecans
Or
Warm Valrhona Soft Chocolate Cake with Espresso Ganache, Coffee Gelato and Toffee
…………………………………………………………………………………………………………………………………………..
Opal New Year's Eve | $69/person +$39 for wine pairings |For reservations, call 843-654-9070.
FIRST COURSE
Petite Veal Osso Bucco with Fontina Polenta and Gremolata
SECOND COURSE
Shellfish Bisque with Roasted Pepper-Bacon Marmalade
Or
Local Oysters on the Half Shell with Merlot Mignonette
Or
Tuna Crudo with Pickled Beets, Chilies and Citrus
THIRD COURSE
Local Golden Tilefish with Braised Pork Agnolotti and Greens
Or
Black Skillet Wagyu Culotte with Cauliflower, Roasted Carrots and Golden Potato Puree
Or
Fresh Tagliatelle with Lobster, Maitake, Truffle and Spinach
DESSERT
House Made Gelatos
Cinnamon Panna Cotta with Bourbon Apple Compote
*Menus Subject to change based on availability
December 10, 2013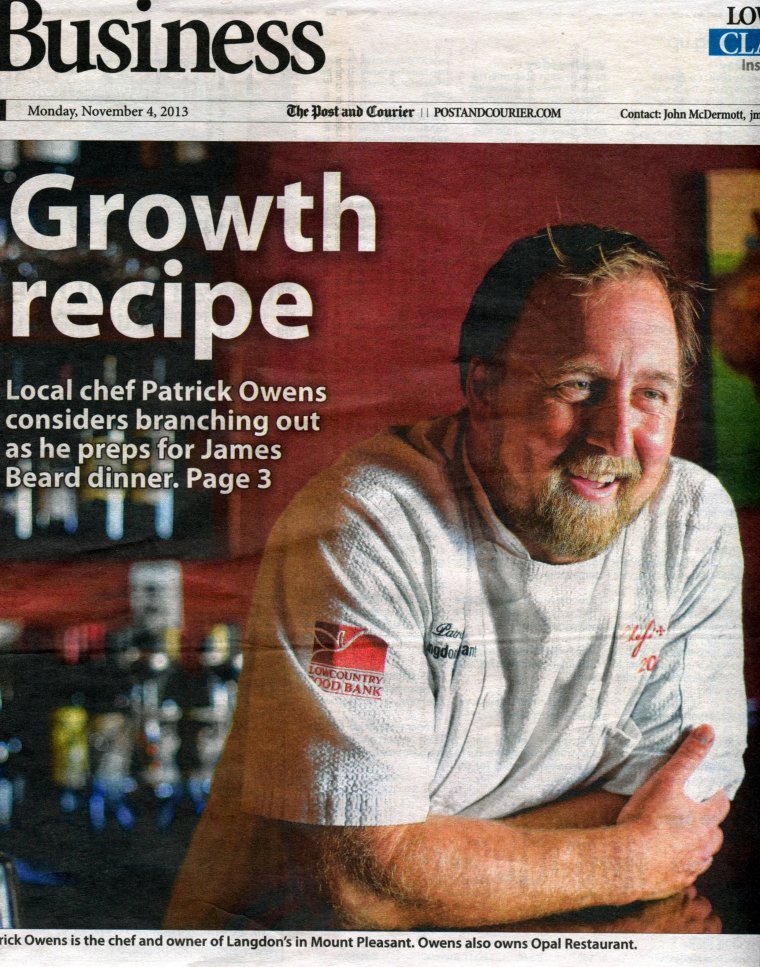 Post & Courier Profile
Business editor Warren Wise profiles Chef Patrick Owens in Charleston's Post & Courier.
Click here to read the full article.
November 13, 2013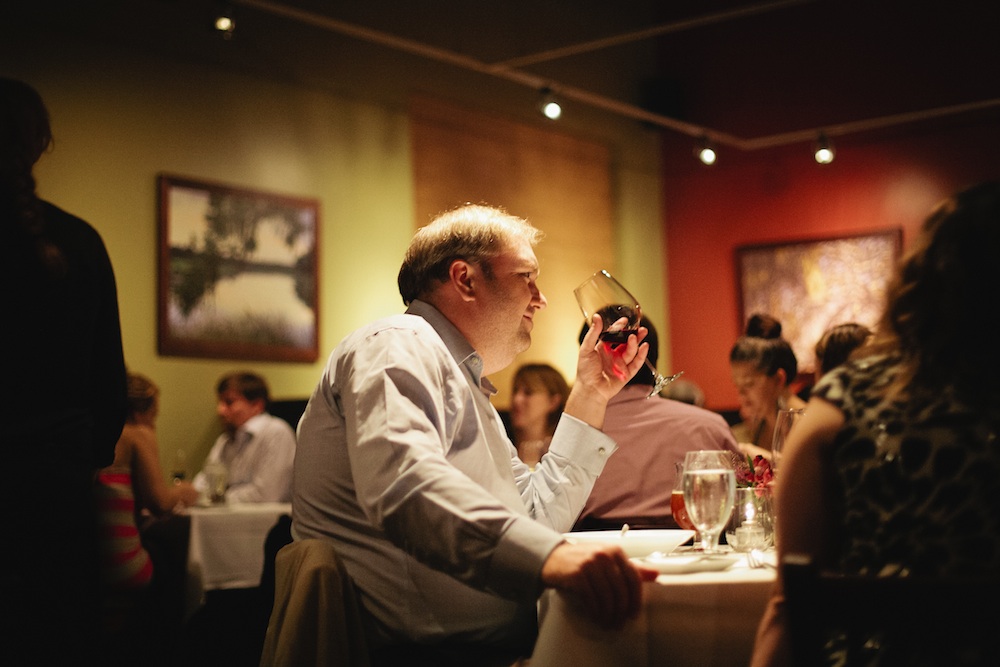 Top Ratings on Zagat
Zagat, the widely regarded international restaurant ratings guide, has recently added a select few Charleston restaurants to the platform. We are proud to announce that thanks to our reviewer contributions, Langdon's has received a 28 out of a possible 30 rating for food! Here's what our reviewers had to say:
"The chef is at the top of his game" at this Mount Pleasant American, where the "top-tier" fare and "excellent wine list" are "presented with care" and "rival any Downtown" eatery; maybe it "doesn't look like much on the outside", but once indoors "a beautiful bar and romantic dining room" await – and if it's "pricey", devotees declare it's a "worth-it" "treat."
Thanks everyone!
November 13, 2013